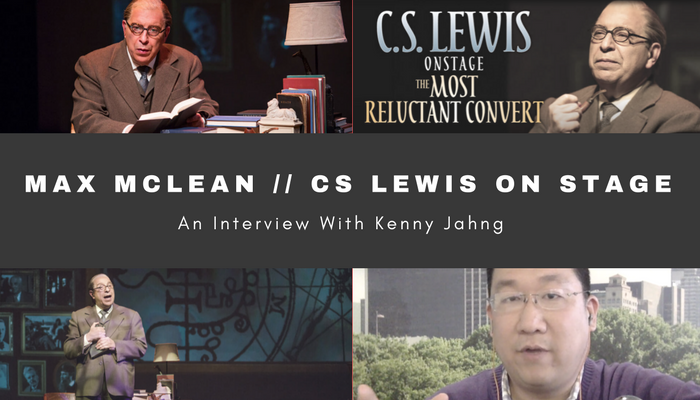 Interview With Max McLean About Bringing CS Lewis To Life On Stage
I was able to bring Max McLean on to interview him about his latest production – The Most Reluctant Convert and Fellowship for Performing Arts focus on C.S. Lewis.
His latest live theater show is currently running at The Acorn Theater on Theater Row in New York City. You can find out about the show at www.cslewisonstage.com
Max has dedicated his life and vocation to reveal the beauty and brilliance of C.S. Lewis on the theatre stage.
I ALWAYS love sitting down to chat with Max McLean not only because his voice is a delight to listen to, but because of his perspective on the arts and faith and his amazing work in the theater space.

The Reluctant Convert is basically C.S. Lewis' journey from skeptic to the most influential Christian intellectual of the 20th Century.

Max brings to life one of the most engaging personalities of our age and takes audiences on C.S. Lewis' fascinating theatrical journey from atheism to Christianity. Adapted exclusively from Lewis' writings, McLean inhabits Lewis from the death of his mother, his estranged relationship with his father and the experiences that led him from vigorous debunker to the most vibrant and influential Christian intellectual of the 20th Century.  I'm sure you will cherish every minute of the extraordinary journey of C.S. Lewis as The Most Reluctant Convert.
Check out some of the praise the show has received already:

"A story telling master." – Chris Jones, Chicago Tribune

"Highly Recommended! McLean instantly convinces you that you are in the presence of C.S. Lewis himself." – Hedy Weiss, Chicago Sun Times

"McLean has a rich stage presence and a masterful command of timing. I found the play's conversion account both spiritually invigorating and hugely moving."
– Celia Wren, Washington Post

"A spellbinding performance. McLean successfully introduces the audience to a personable and intriguing portrait of the scholar." – Margaret Tazioli, World Magazine
PERFORMANCES BEGIN FEBRUARY 8 – STRICTLY LIMITED RUN!
THE ACORN THEATRE AT THEATRE ROW – 410 W 42nd Street (between 9th and 10th Avenues)
Save Up to 40% – Tickets starting at $41.25 (reg. $67.25)
DISCOUNT CODE FOR OUR READERS:
ONLINE: Visit TelechargeOffers.com and enter code TRGRT40
PHONE: Call 212.947.8844 and mention code TRGRT40
IN PERSON: Present this offer at The Acorn Theatre at Theatre Row box office – 410 West 42nd Street (between 9th and 10th Avenues) Box Office Hours: Monday – Saturday: Noon – 6pm, Sunday: Noon – to curtain
For performance schedule and to discover more, visit www.CSLewisOnstage.com
* Offer expires 2/24/17. Offer is limited to 8 tickets per person. Offer is strictly limited and may be revoked at any time. Venue service fees will be applied to all purchases. Schedule subject to change. All sales are final; no refunds or exchanges. No one under 4 admitted.
About Author