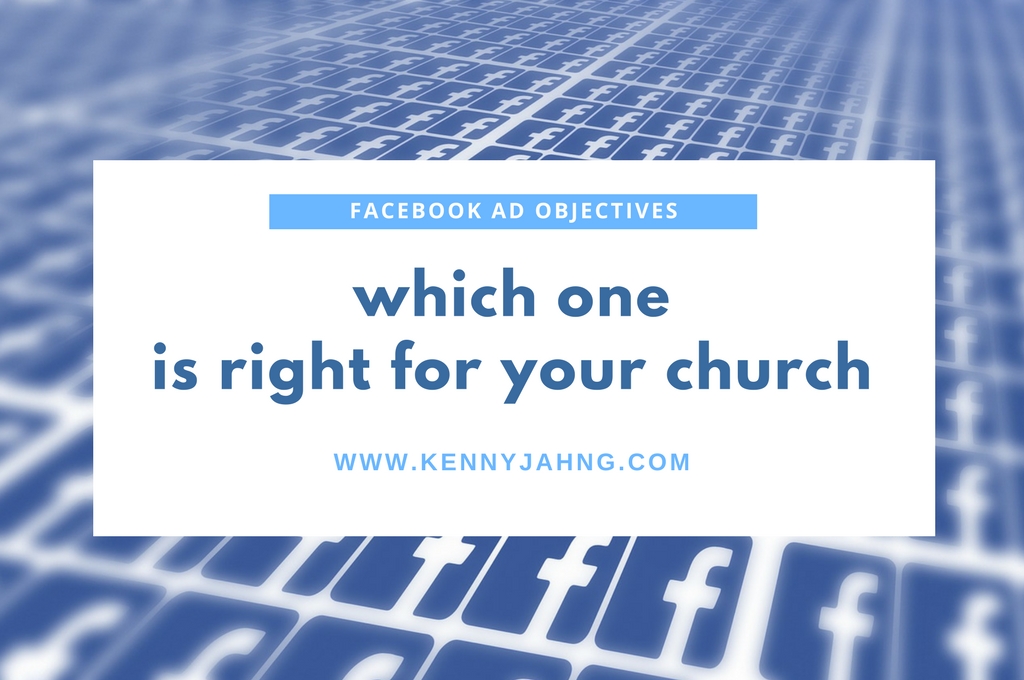 Facebook Ad Objectives: Which One is Right for Your Church
Facebook Ad Objectives is one of the most critical things you need to get right when running ads on Facebook.
If you have ever clicked on the "Create Ads" feature in Facebook, then you know… It can be quite the rabbit hole.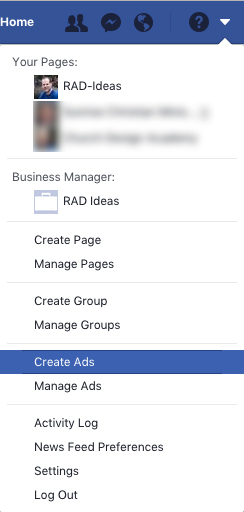 An ever changing, often confusing journey, that can suck your time and ad dollars away if not used properly.
Your Ad Manager journey begins with an option to pick an objective. Seems easy enough. Until you realize the tabs keep changing and the descriptions aren't always ideal.
As of this writing, there are currently 10 tabs, down from 14. To get an idea of what the latest set of Facebook Ad Objectives do for you, I've put together a brief overview.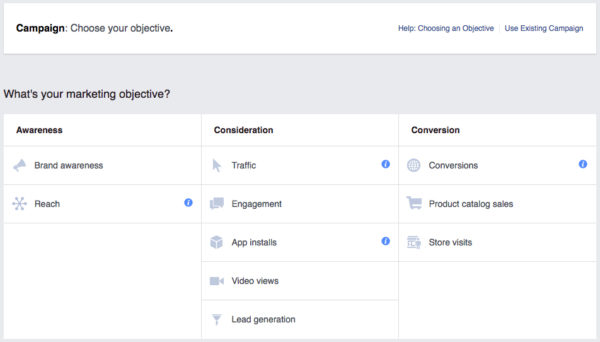 Facebook Ad Objectives Overview
Brand Awareness – Make people aware of your church. Allows you to reach people Facebook believes, based on their previous actions, to be interested in learning more.
Reach – Get seen by the maximum number of people. The 'Local Awareness' feature allows you to target people by proximity to your church, or event. Delivering info to them about ways they can connect with you.
Traffic – Reach people on or off Facebook with offers and opt-ins. Enter a URL and send traffic to your website, FB Messenger Ads or an App.
Engagement – This is essentially Boost Post with more control. You can pick targets, and encourage comments, shares, likes, and event responses for both posts and pages.
App Installs – Pretty self explanatory Fb Ad Objective. Encourage viewers to install any app you have registered on Facebook's developer site.
Video Views – Get more views on your videos. Use this Facebook Ad Objective to raise awareness about your events, Sunday sermon clips, testimonies and more.
Lead Generation – If you are looking to collect email addresses (Leads) from interested people this is a great feature. You can use this info to follow up and keep people in the loop outside of Facebook.
Conversions – Typically used by marketers attempting to sell a product or service. It allows you to collect information, offer services, and track interactions through your website or app.
Product Catalog Sales – Automatically sync your product catalog with Facebook. Allows you to show specific items to interested people, based on their search history and audience information. (Think Amazon ads for something you just Googled.)
Store Visits – Have a physical store you want people to visit? This objective allows you to deliver ads based on proximity to your location.
Now that you have an idea of what they do. Which one is ideal for your church?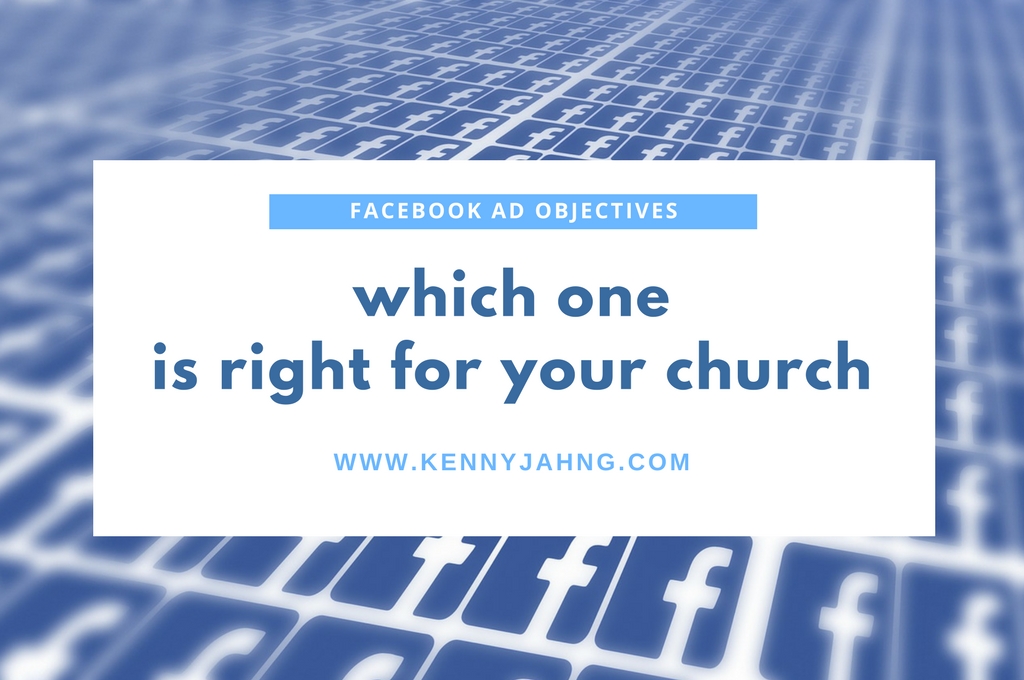 The answer may vary, based on your goals, but there are. . .
5 options for Facebook Ad Objectives that will work best for churches:
1) Brand Awareness
When was the last time you thought about servicing the heater in your home? Most likely it was when you had a need, seasons where changing, your house wasn't getting warm. Your need caused you to look for a solution.
But who do you call? A company whose brand you were aware of; you have used before, heard good reviews about or who a friend recommended.
For a church, a Brand Awareness campaign is a long term approach. You are putting your information in front of people over and over again, not so they take action today, but so they know who to call when they have a need.
Take a look at one example of a church doing this in this Case Study interview.
2) Traffic
Two weeks from now, your church is hosting a marriage conference. The event is going to address issues you see couples in your community struggling with and you want them to know there is hope, and you have a solution.
This is where a Traffic Facebook Ad Objective campaign can shine. Deliver a Facebook ad that sends people to your church website for more information and a chance to participate.
3) Engagement
Creating Facebook content that is fresh, interesting and connects well takes time. The inherent social nature of it can leave you with the nagging  question of "will this work with our audience?"
When you find something that does connect well and people are Liking, Clicking, and Sharing, then Engagement is your best ally.
Use it to push the posts existing organic reach even further,  and catch the attention of people Facebook might otherwise not show your post to.
4) Video Views
Easter is coming and you want to invite your community to celebrate with you. Printed invite cards work great with neighbors and co-workers, but others in your community will miss out.
The Video Views Facebook ad objective is your answer for getting behind-the-scenes planning or a personal invite from your Pastor in front of more people.
It doesn't have to be overly produced. Set up an iPhone on a tri-pod, in a location with good natural light and go for it. Invite highly connected people; staff, elders, small group leaders, etc. to comment and share the video to get the engagement started.
5) Lead Generation
As great as social media is… building long term relationships with it can be challenging. Email is better suited for continuing existing relationship and offering meaningful solutions. (see OptIn Monster stats)
Lead Generation ads are the connection between the two. Allowing you to collect an email address and name so you can follow up with with similar, pertinent information
For example: Your community has a high number of single parent and double income households. This creates a challenge during the summer when kids are out of school and parents are working. By presenting an ad that offers a solution your church provides, you can gather the parents information and continue to send email them about other ways you serve families.
You've met a need they have, and continue to show the value your church is providing in the community.
WHICH FACEBOOK AD OBJECTIVE DO YOU THINK YOU WILL USE NEXT?
---
Ryan Holck is the founder of RAD Ideas. He helps faith based organizations get noticed online. Creating websites, graphic design and online strategies that grow ministry. You can find him at RAD-Ideas.com or his ready-to-use resources at Open, Edit, Print.
About Author