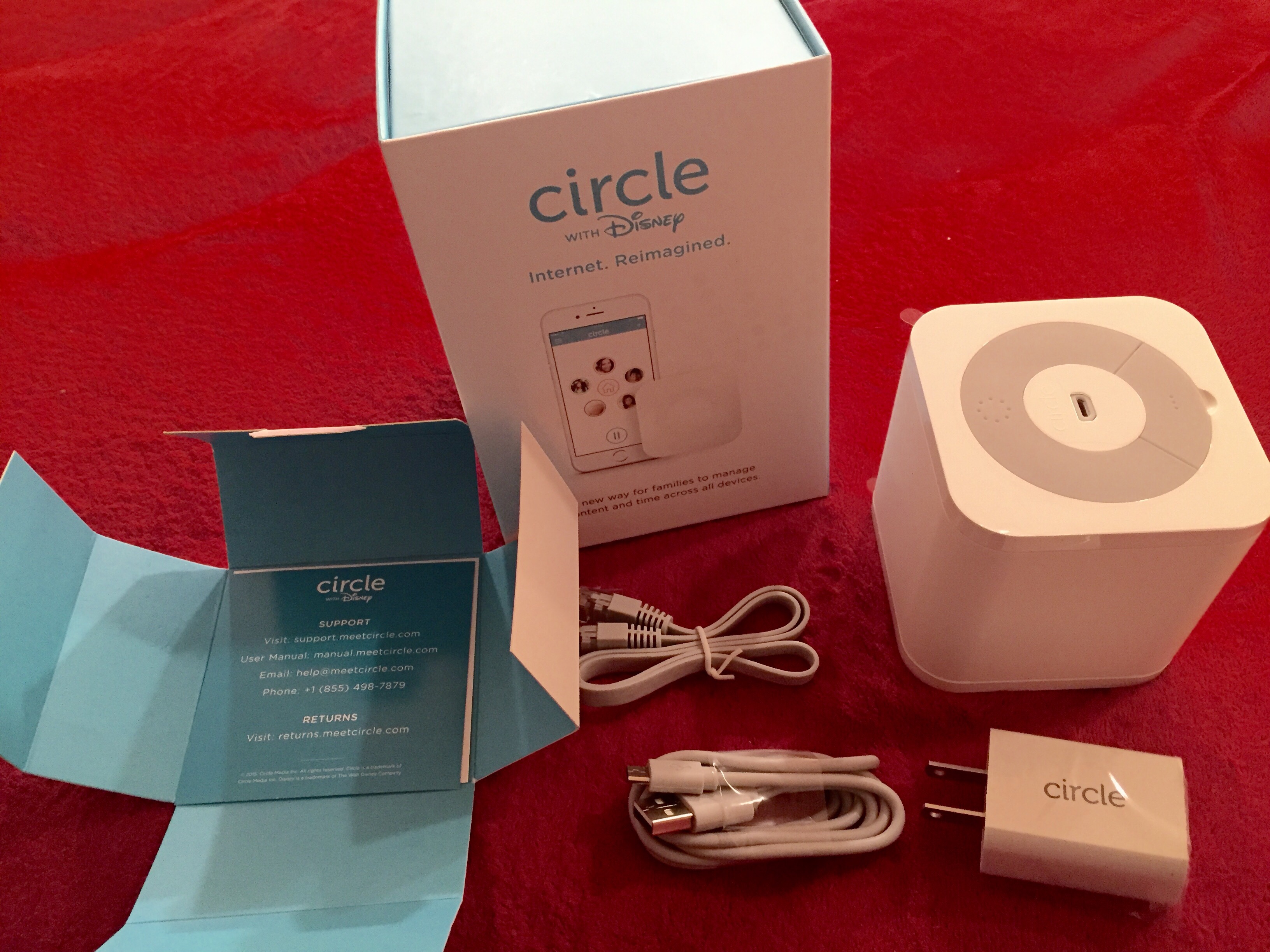 5 Things I Love About Circle with Disney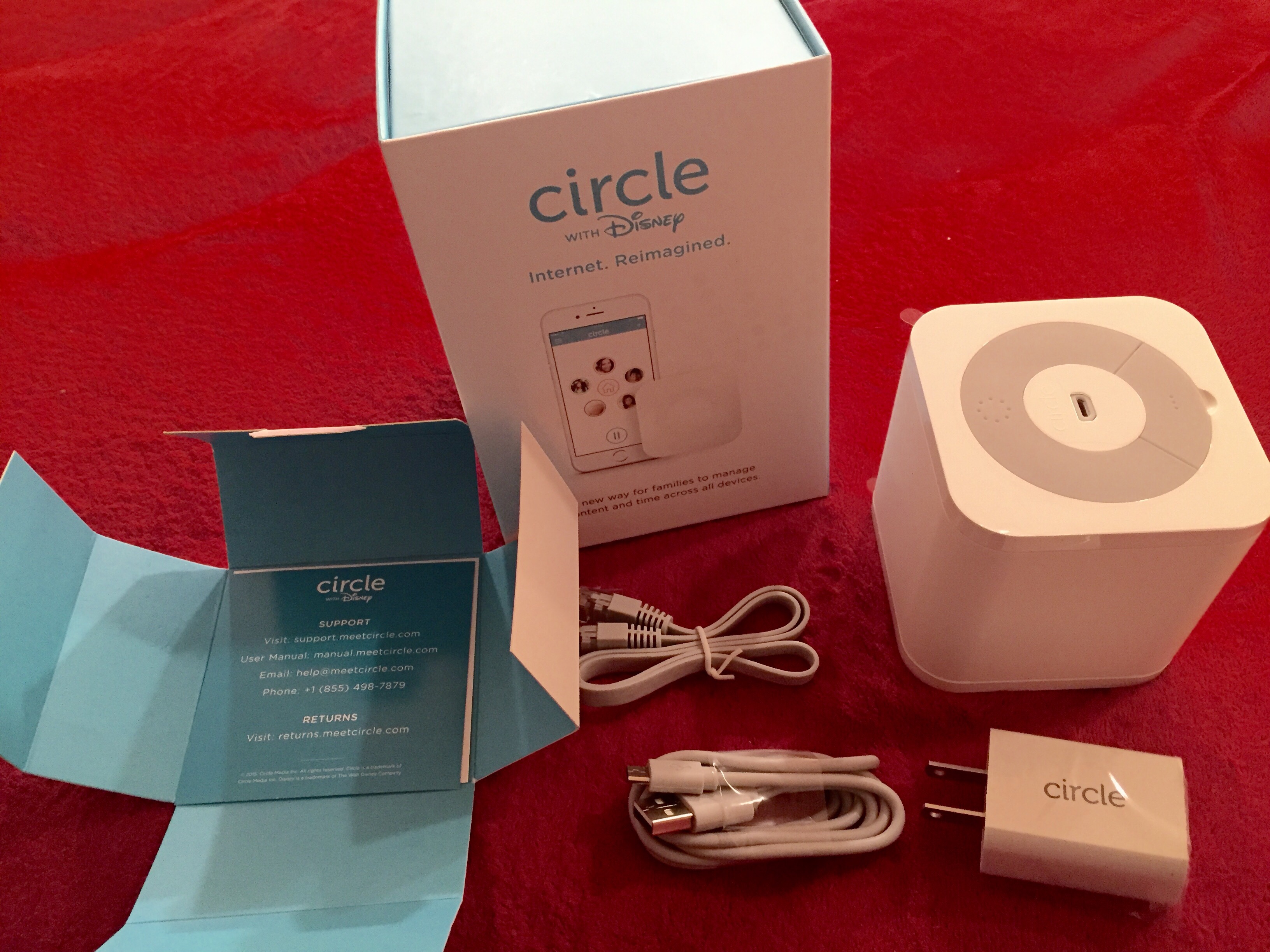 I recently got the Circle with Disney Internet device and today I want to share the experience that we have had with it with you. I have been hearing a bunch of other people across my personal networks mentioning Circle here and there.  I recently sat down with my friend Justin who was one of the first guys to get one in his hands and asked him about his experience. All of it has been positive chatter.
So I was curious to see if my typically higher-than-usual-expectations would be met with this package that arrived in the mail.
We have been living with it installed for several weeks now, and it almost is invisible enough that I forgot about writing a follow up post.
I can give a hearty two thumbs up for this Apple-esque sleek, it-just-works product for families.
Oddly enough, Circle with Disney has a cube form factor, no circle or cylinder. It looks like a white fat Apple TV box actually. You would've thought that it was going to be a circle kind of like AppleTV, but maybe like a hockey puck. This does not impact the functionality at all, but almost everyone that I've talked to that has a circle with Disney has mentioned this oddity.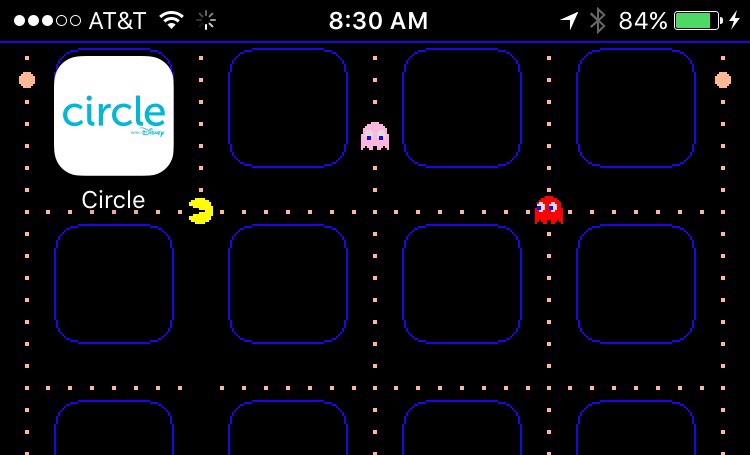 Even the icon for the app doesn't feature a circle. #missedbrandopportunity
AnyWho, the product itself is killer. It actually works. And it works well. There are five things in particular that I like about it which make it super functional, efficient and useful.
5 THINGS THAT MAKE CIRCLE WITH DISNEY AWESOME
1. Easy-Peasy Set-Up
It was incredibly easy to set it up. You do not need to plug it into your router or anything else. You simply need to just plug it in and connect it to your router via Wi-Fi and the Circle App on your phone.
2. Insights
It is very interesting to see what we do on the internet on a daily, weekly or monthly basis. It is neat to see usage for each person in the house and which apps or websites or categories of sites each person are using.
There is a new self awareness that arises once you see the data on just how much time you spend on Instagram or social networking sites versus entertainment versus videos versus Netflix etc.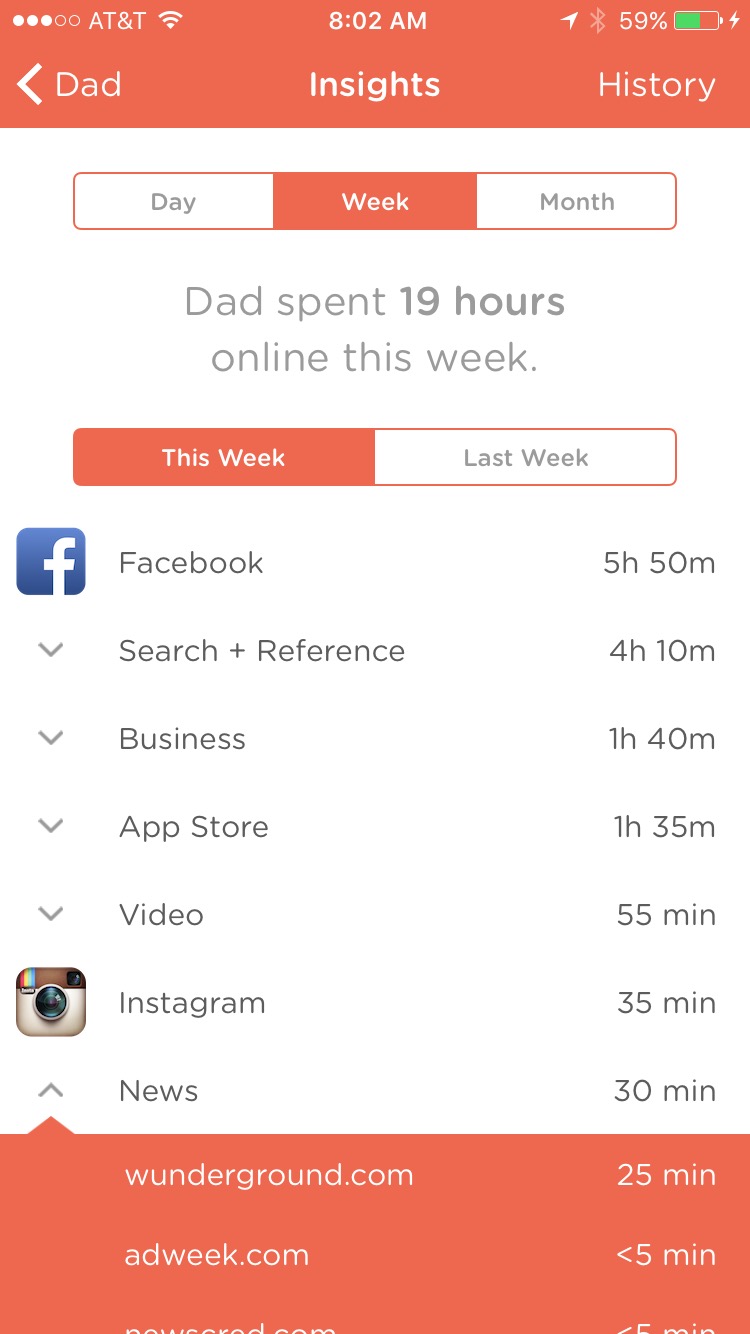 We don't use it to police or audit how the kids are using the Internet, but looking at the insights together once in a while has been a very helpful exercise for them.
Learning the value of time and how it is a universally precious resource this something that all kids and teens need to go through as they grow up. This is just another tool that helps support learning that life lesson.
3. Downtime
Circle settings let you set a default time off and time on again for the night – on an individual basis.  Just go into a family member's profile and update the settings at will.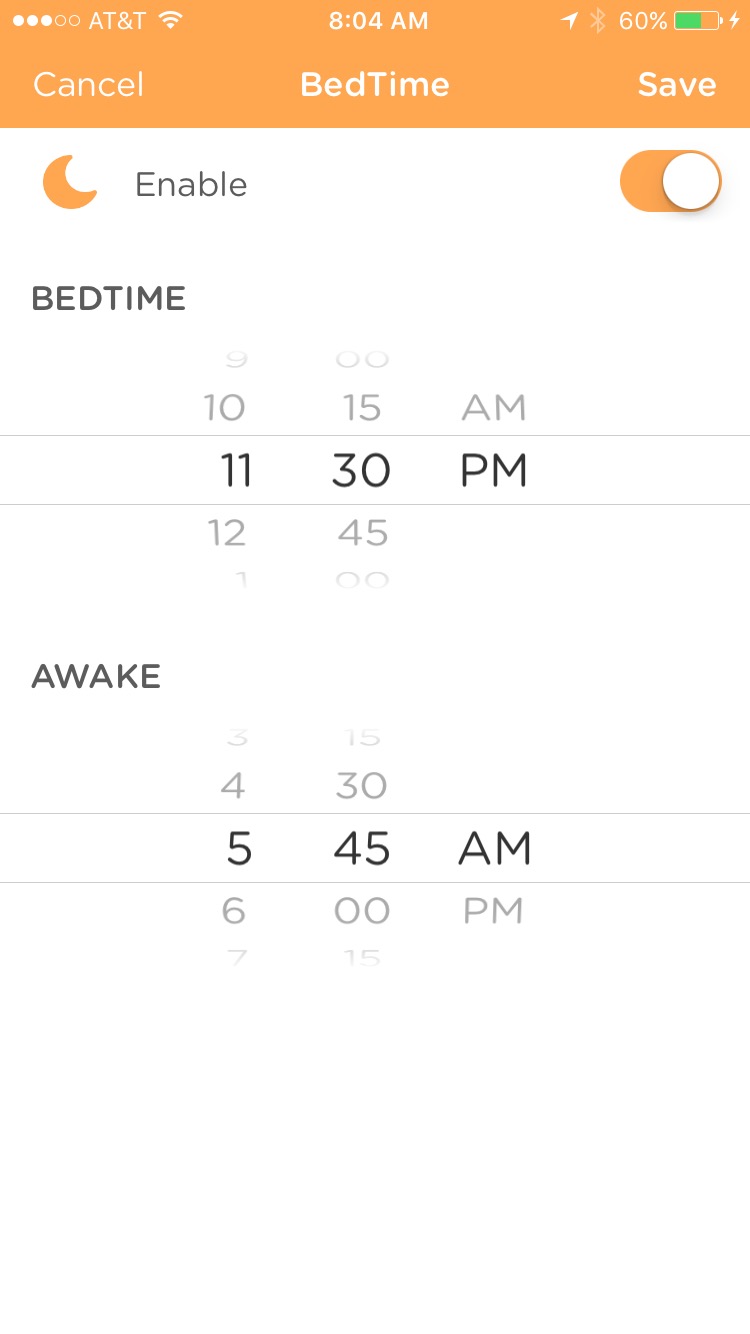 This is where circle allows parents to actually be parenting a bit. For example, our kids really should not be on Snapchat or social media between midnight and 6 AM. It's super easy to turn the blocking off as well. No more teenage girl in our house being tempted to check Snapchat one last time again and again while in bed when they should be sleeping and dreaming and growing.
4."THE MOM BUTTON"
With the push of a single button, Mom has the power to kill the entire Internet all at once so that when she is calling us to dinner, it doesn't take everyone 15 minutes to finally get to the table 🙂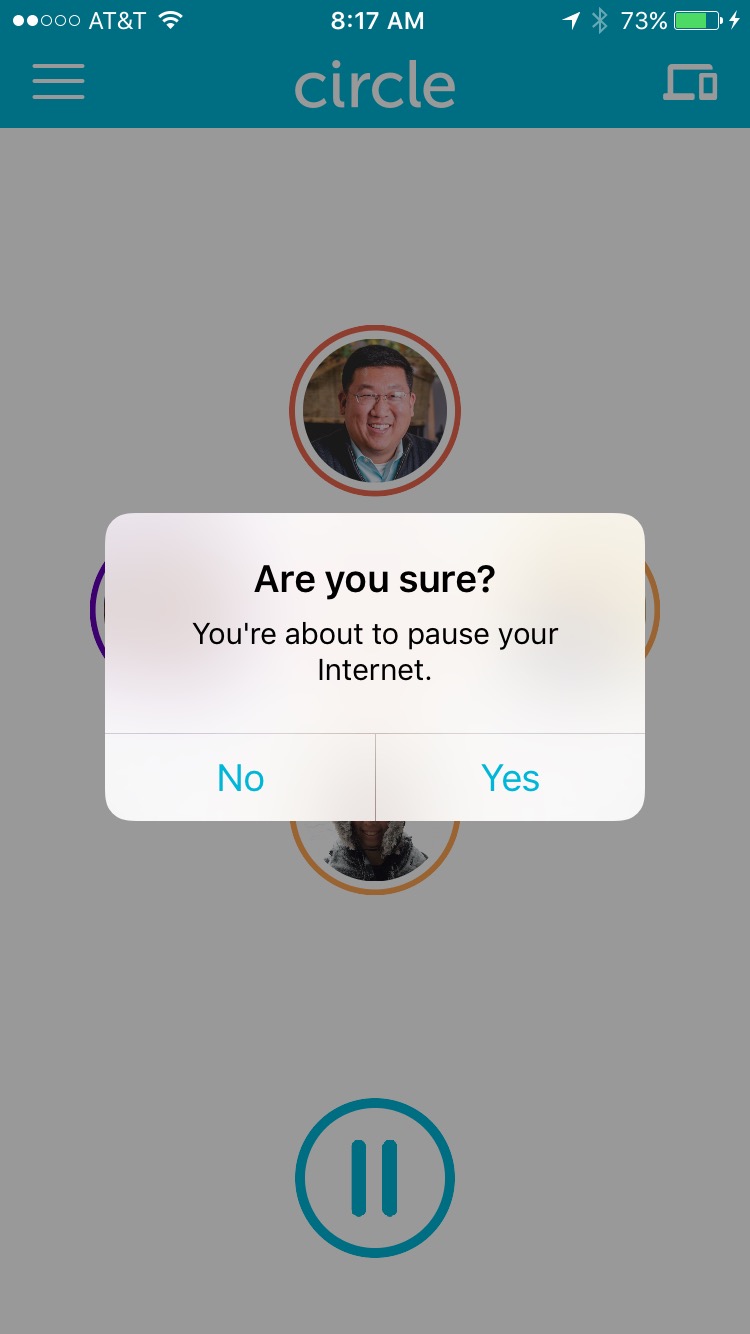 5. Blinders (filters)
Let's face it, kids are kids because they are still learning things such as benefits of delayed gratification, building discipline to stay on track and focus, etc.
The web is built in the way that actively works against that principle. Hyperlinks actively try to take us off the task at hand of consuming the current page. Links  everywhere can easily turn into a rabbit hole. Circle allows you to determine categories of sites to filter out so you get some dead ends when it really isn't appropriate or necessary. Does my kid really need to click to a video in HBOTOGO or shopping site for shoes during the week while doing homework? I would say nope. And this is just a helping hand for that.
In addition 3 cool functions under PRIVACY AND SAFETY let you automatically set Google safe search, Yahoo search that restricts explicit content, and even ad blocking.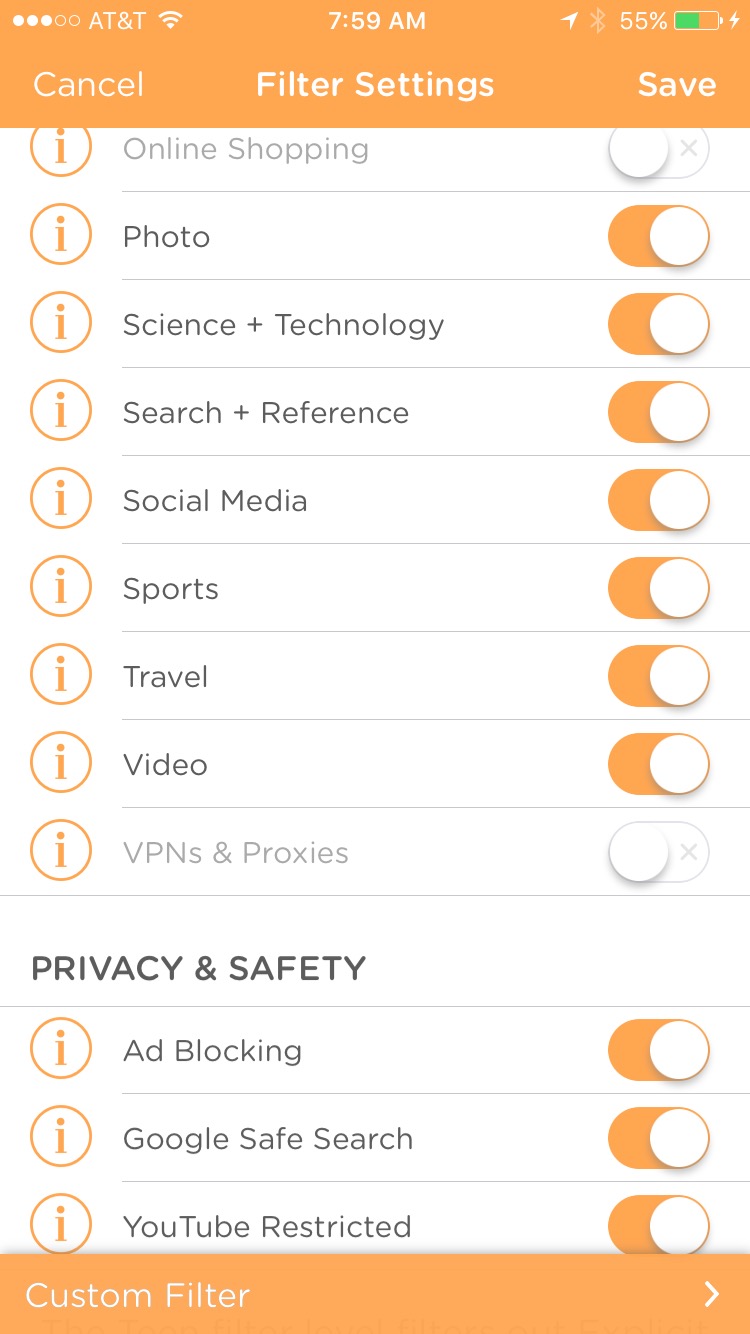 You have to admit, sometimes kids do need some guard rails. And that's where the site level and category level filters are quite helpful. In fact I've set category filters for my own profile to help guard my own time on the Internet.
And it is nice how Circle also lets you restrict specific apps and websites instead of just rolled up predefined categories of sites.
The best part of all this filtering is that I can change the settings on the go from the app and I don't even need to be home.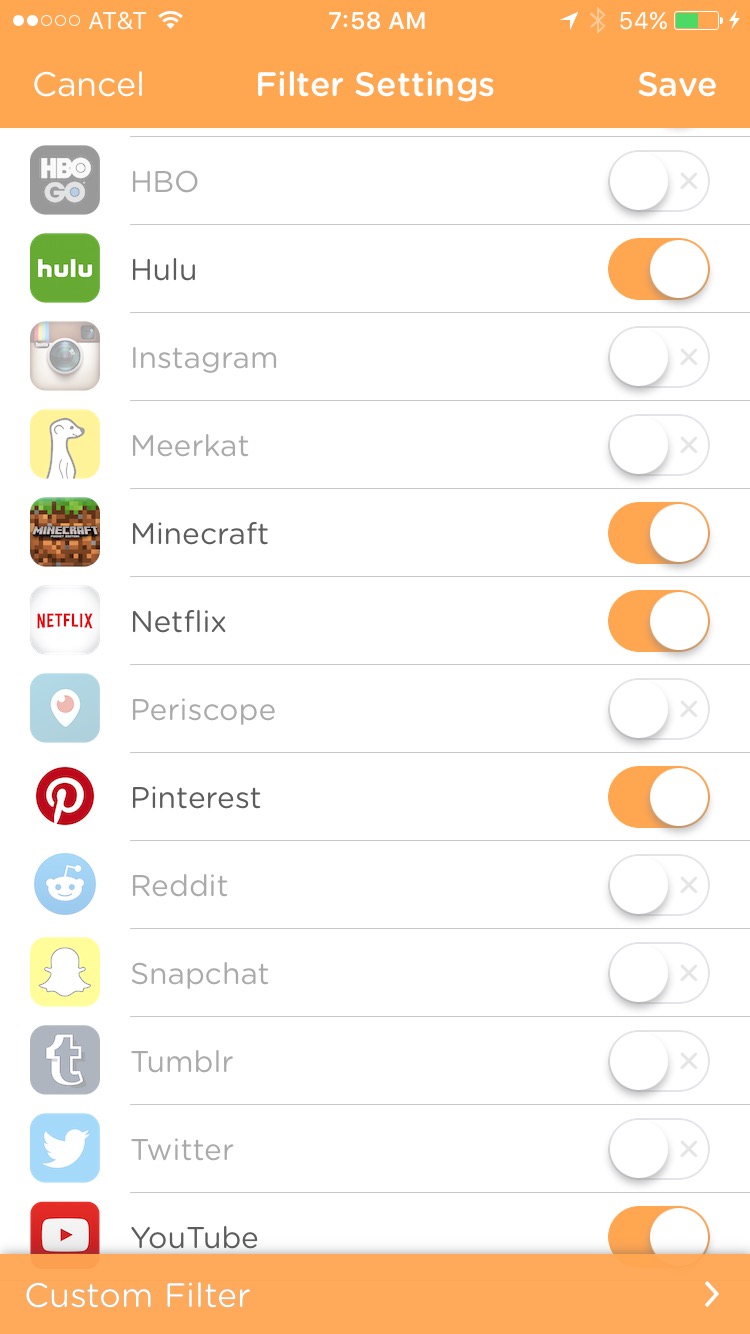 Once I got a call from my fifth-grade son who had an hour restriction during the week on YouTube set on his profile. But his homework actually required him to watch a bunch of YouTube videos. He hit his limit, called me, and I simply turned off the restriction and he was instantly back in action. It literally took me 20 seconds to go to the app, go to his profile and go to the filtered sites and make the change. That's practical and useful.
And lastly, others have told me that devices like this will slow down the throughput on my network. But www.speedtest.net shows us that we are actually still exceeding the Internet bandwidth speed that we pay for through FiOS Internet. So no complaints here.
Like I said originally, we have been using this in our home and it has been so seamless and invisible that I almost forgot to publish this blog post sharing our experiences with you. It is that simple.
Do you have Circle with Disney? What's your experiences? What downsides are there with the product – I can't find any as of now.
About Author