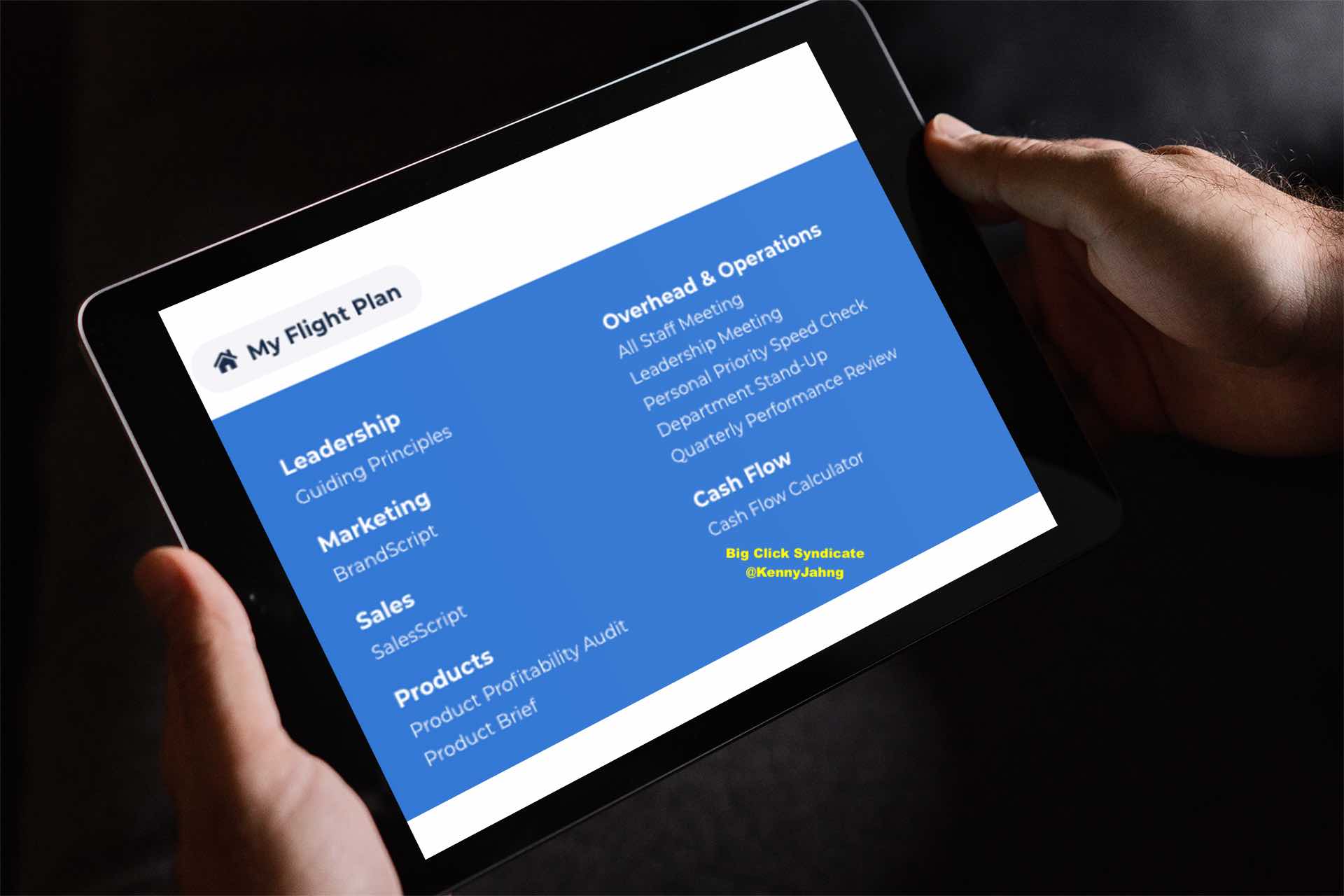 Business Made Simple Flight School [2023]
Small Business Flight School with Donald Miller: Get a 6-Step Plan
to Grow Your Small Business
Flight School: A Proven Path to Business Growth
Your number one fear as a business owner is running out of money. But without a proven plan for growth, that's exactly what will happen. When your business is not generating the revenue it needs to stay afloat, you need to get creative in order to make up the difference.
When you're guessing at how to grow your business…
You constantly worry about cash flow.
You waste time and money on strategies that don't work.
You feel like the chaotic startup phase never ends.
Eleven years ago, Donald Miller lost his entire life savings in a failed venture. Today, he owns a $17M business that he built from the ground up. Small Business Flight School will teach you everything Donald learned so you can scale your business, too. This isn't a business philosophy course with theories that don't work in the real world. It's a hands-on, 6-month program designed to help small business owners double their revenue with a growth system that works.
If you're a business owner or entrepreneur looking to take your business to new heights, you may be wondering what happens in Flight School. Well, Flight School is a comprehensive business training program designed to help entrepreneurs and small business owners grow and scale their businesses. In this article, we'll walk you through what you can expect from Flight School and how it can help your business thrive.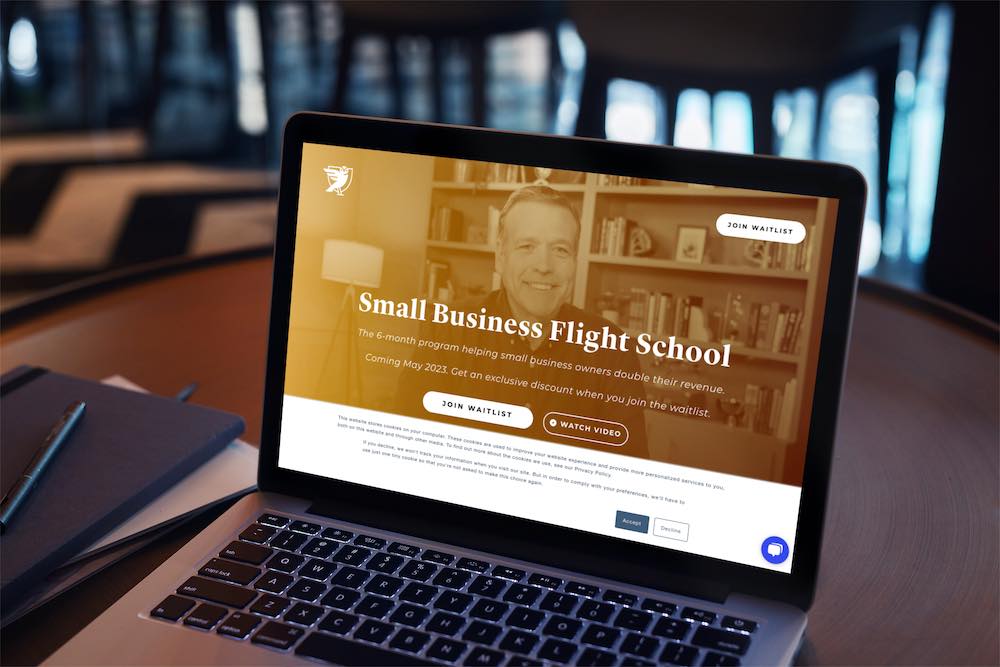 What is Flight School?
Flight School is a six-month business training program that focuses on six key areas of your business: leadership, sales, marketing, products, overhead and operations, and cash flow. Each month, the program will cover one of these areas in depth, and provide you with actionable steps to take in order to improve your business in that area.
The program is designed to be completed in about five hours per week, meaning you can fit it into your schedule no matter how busy you are. By the end of the program, you'll have a growth plan that actually works, and each area of your business will be firing on all cylinders.
The 6 key areas of your business covered are:
Leadership
Sales
Marketing
Products
Overhead and Operations
Cash Flow
How Does The Six-Step Plan Work? Your Small Business Should Run Like an Airplane
Leadership = THE COCKPIT
Grow your business by aligning your team around three economic priorities.
Marketing = THE RIGHT ENGINE
Learn to clarify your marketing message so your customers place orders.
Sales = THE LEFT ENGINE
Close more sales by inviting customers into a story instead of pushing products.
Products = THE WINGS
Increase your revenue by prioritizing (and creating) products that are high in demand and high in profit.
Overhead & Operations = THE BODY
Run a lean business by organizing your entire team using only five meetings.
Cash Flow = THE FUEL TANKS
Install a simple, easy playbook that ensures you never run out of cash.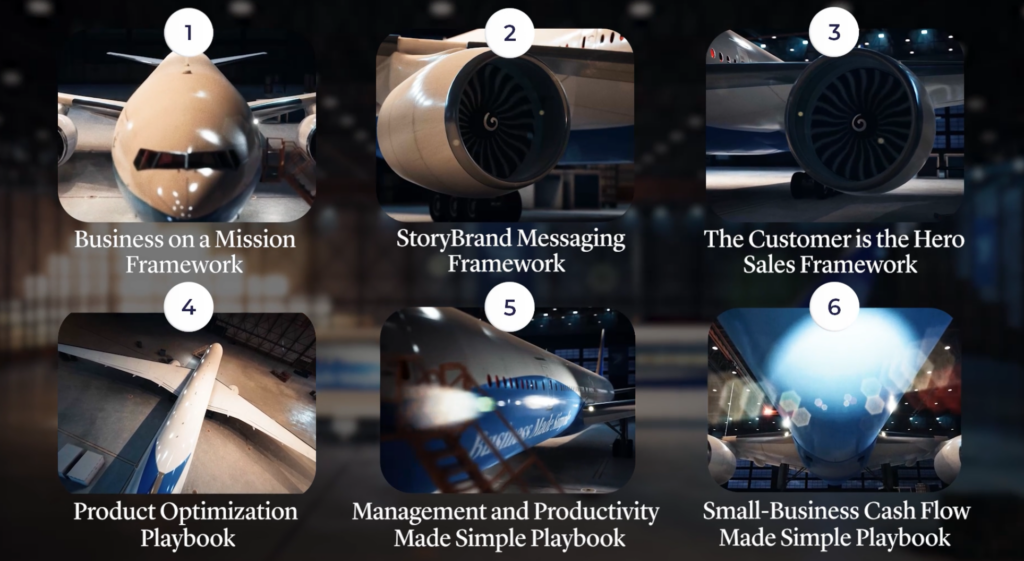 There are the six disciplines taught in the Small Business Flight School program that can help any small business grow.
The first discipline is the Business On A Mission framework, which focuses on creating a strong sense of purpose and direction for the organization. Having a clear mission statement that all team members understand and align with can help propel a business forward.
The second discipline is the StoryBrand Messaging Framework, which teaches businesses how to clarify their message and communicate it effectively to their customers. By identifying the customer's problem and offering a clear solution, businesses can increase customer engagement and drive more sales.
The third discipline is the Customer is the Hero Sales Framework, which invites customers into a story and positions them as the hero. By understanding the customer's needs and desires, businesses can create a narrative that resonates with their target audience and drives sales.
The fourth discipline is the Product Optimization Playbook, which helps businesses ensure that their products are in demand and profitable. By analyzing market trends and customer feedback, businesses can make informed decisions about their product offerings and increase their profit margins.
The fifth discipline is the Management and Productivity Made Simple Playbook, which focuses on streamlining workflows and increasing efficiency. By optimizing processes and eliminating unnecessary tasks, businesses can save time and resources that can be reinvested into growth.
Finally, the sixth discipline is the Small Business Cash Flow Made Simple Playbook, which helps businesses manage their finances effectively. By understanding cash flow and implementing sound financial practices, businesses can ensure they always have the necessary resources to operate and grow.
These six disciplines are taught in the Flight School program and offer valuable insights and strategies for small business growth. By focusing on mission, messaging, sales, product optimization, management, and cash flow, businesses can create a solid foundation for long-term success.
Why Flight School Works
What sets Flight School apart from other business training programs is its focus on action. Rather than just learning theory or strategies, Flight School is all about taking action and implementing what you've learned in your business. This means you'll be making real progress and seeing real results from day one.
Flight School also provides a community of like-minded entrepreneurs and business owners who are all working towards the same goal: growing and scaling their businesses. This community can be a great source of support, encouragement, and advice as you navigate the challenges of entrepreneurship.
By the time you're done with the program, each area of your business will be prepared to fire on all cylinders and you'll have a growth plan ready to go that actually works.
If you've been looking for an easy, proven growth plan you can implement quickly, you've found it.
Stop guessing at what you need to do to grow your business and use the next 6 months to become a confident business owner with more revenue and a healthy, scaling business.
Who Should Attend Flight School?
Flight School is designed for entrepreneurs and small business owners who are serious about growing and scaling their businesses. Whether you're just starting out or you've been in business for years, Flight School can help you take your business to the next level.
If you've been struggling to grow your business, or you're not sure what steps to take next, Flight School can provide you with the guidance, support, and actionable steps you need to succeed.
4 Things To Expect in Small Business Flight School
1. Create a plan to overhaul your entire business in 6 months
Get access to online training where Donald Miller teaches you how to implement a growth plan in just 6 months. You'll learn strategies to attract and retain customers, increase your brand recognition, and maximize profits. Plus get exclusive tips on marketing, sales, customer service and more.
2. Install a proven plan to 2x your revenue
You only have to spend 5 hours per week to learn and implement the Flight School frameworks and start seeing results. The framework was developed over the course of several years to help entrepreneurs, marketers and business owners quickly scale their businesses.
3. Get weekly insider access to Donald Miller and the Business Made Simple team
Get feedback on how to apply the frameworks in your specific business and industry. When you go through the program you will understand the strengths and weaknesses of your business offerings, learn how to build a sound growth strategy for your business, and show you how to best use it to maximize your results. What you put into it determines what you get out of it — and it can be an invaluable resource for companies looking to gain a competitive edge.
4. Join a community of growth-minded business owners
Through the Flight School online community, you'll join a group of peers you can connect with, learn from, and partner with to share best practices.
Is the Flight School Program for you?
Flight School is applicable to any industry. Additionally, the weekly Q&A calls ensure that you receive the necessary assistance to implement these sound frameworks in your particular business or industry. The Flight School community is also a great resource to rely on for support and guidance.

Flight School works with all types of organizations, from brand new start-up businesses to corporations. No matter the size or scale of your organization, Flight School's comprehensive learning modules can be adapted and applied effectively at any level.
Although we recommend a six-month pace, you have the option to select a different tempo within the platform. Email reminders will be sent to you based on the timeframe of your choice. With the Flight School Program, you have the power to make your own schedule and tailor it to fit your needs. You can also access additional resources such as tutorials, guides, videos, and more to help you along the way.
Enrolling in Flight School grants you exclusive lifetime access to a VIP community. You can post questions and comments on other people's posts to receive real-time support from committed business owners who are also dedicated to growing their businesses. The VIP Flight School community is designed to be supportive as you work on your Flight Plan and grow your small business.
Core benefits of the Business Made Simple Flight School Program
On-demand courses through the Business Made Simple platform
Access to the online Digital Business Growth Plan tool
6-month video training series to completely overhaul your business
Weekly Q&A calls with Business Made Simple experts
Quarterly live sessions from Donald Miller
Access to the members-only Flight School community
Exclusive Workshop Event Rates
Most Small-Business Owners Don't Have a Plan They Feel Confident In
As a small business owner, you have to be everything to everyone. You're supposed to be a strong leader, a savvy marketer AND a stellar salesperson. Oh don't forget to check on cash flow, by the way. Also should you release a new product? It's exhausting to think about.
Business Made Simple FLIGHT SCHOOL exists to eliminate "business owner overwhelm" by giving you a simple plan you can follow to optimize your business for revenue and profit. You will learn the six frameworks which are easy to implement, proven to work, and are the parts of your business that you need to focus on.
When you join the Small Business Flight School, you'll dive right in to learning the six steps to developing your business airplane. You'll quickly learn which parts are working well and which parts are holding your business back.
From there, you'll have a customized plan to help you learn and implement the frameworks that will take your business to the next level. Imagine how good it will feel to be confident in your plan for sales, marketing, leadership, cash flow, products, and overhead.
No more guessing.
No more overwhelm.
Just a whole lot of confidence in your plan to grow your business.
Small Business Flight School Coupon Code & Promo Codes for Discounts
The full Flight School Program launched in May 2023. And if you're looking for a coupon code, there aren't any available for a discount. Even if it's June, July, August, September, October, November or December 2023, coupon codes aren't available as of now. However, if you are intending to purchase Flight School, make sure to email me and I can share a free bonus gift with you. But you must contact me before you make the purchase.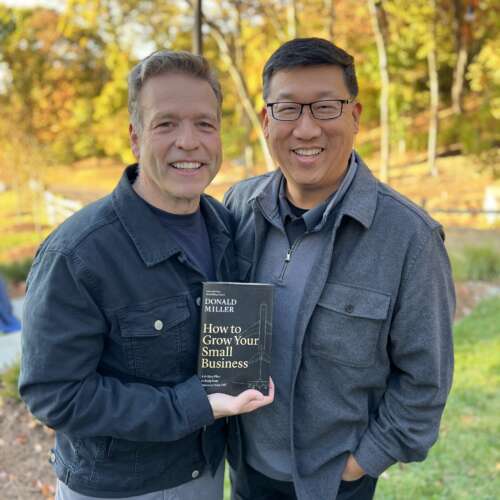 Who is Donald Miller?
Donald Miller is an American entrepreneur, author, and speaker known for his expertise in marketing, branding, and business strategy. Born on August 12, 1971, Miller gained recognition through his bestselling memoirs and personal development books, but his focus later shifted to helping businesses improve their branding and communication strategies.
Miller founded StoryBrand, a company that assists businesses in clarifying their messaging using the principles of storytelling. StoryBrand's framework has been widely praised for its effectiveness in simplifying complex ideas and engaging customers. Through workshops, online courses, and consulting, StoryBrand has helped numerous companies to grow and thrive.
In addition to his work with StoryBrand, Miller launched the Business Made Simple platform, which aims to provide entrepreneurs and professionals with practical tools and resources to enhance their business skills. The platform offers courses on topics such as marketing, leadership, communication, and productivity.
Donald Miller also hosts the "Building a StoryBrand" podcast, where he interviews successful entrepreneurs and leaders from various industries, discussing their experiences and sharing valuable insights with listeners. His background as an author and speaker, combined with his expertise in business and marketing, make Miller a respected figure in the entrepreneurial community.
Final Thoughts on Donald Miller's Small Business Flight School Coaching Program
If you're looking for an easy, proven growth plan that you can implement quickly, Flight School may be just what you need. With its focus on action, community, and comprehensive training in key areas of your business, Flight School can help you become a confident business owner with more revenue and a healthy, scaling business. So why wait? Sign up for Flight School today and start taking your business to new heights!