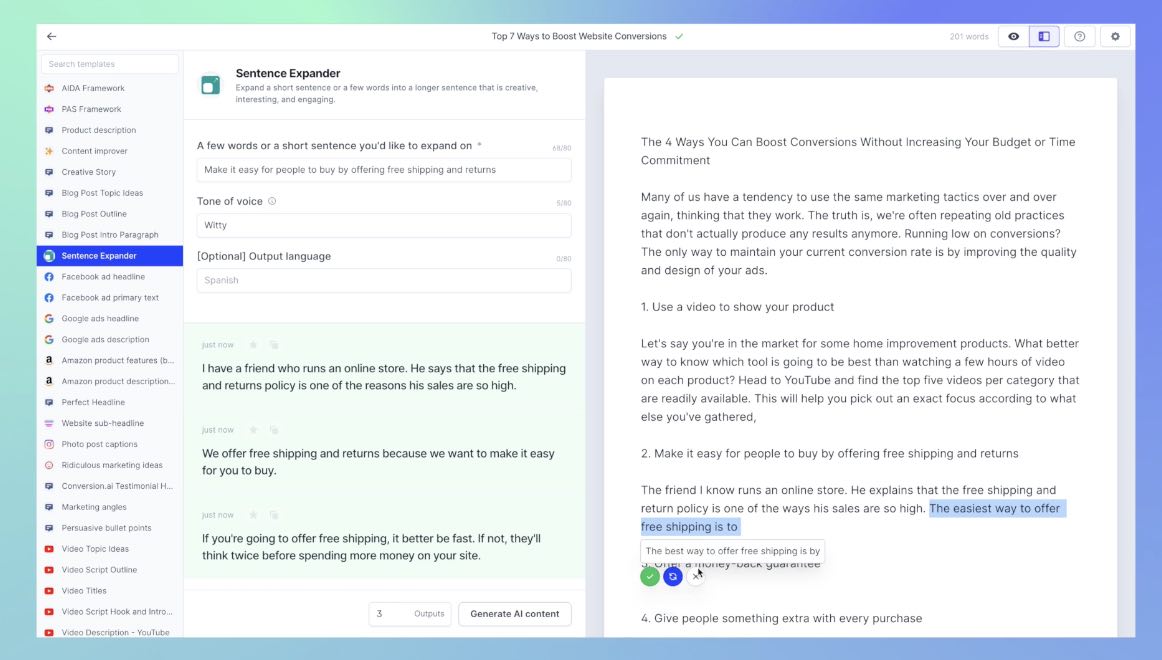 I'm Loving "Boss Mode" For AI Copywriting. You Should Try It Too.
I've been using many generative AI writing tools lately, and one stands out.
Most people have heard about ChatGPT in the news. But if you're serious about actively upping your content marketing game, there's a more robust tool with 50+ templates.
Want to know what it is?
Jasper.AI is one of the fastest growing GenAI tools for a reason. I love using the "Boss Mode" feature. It's just one reason why I love Jasper.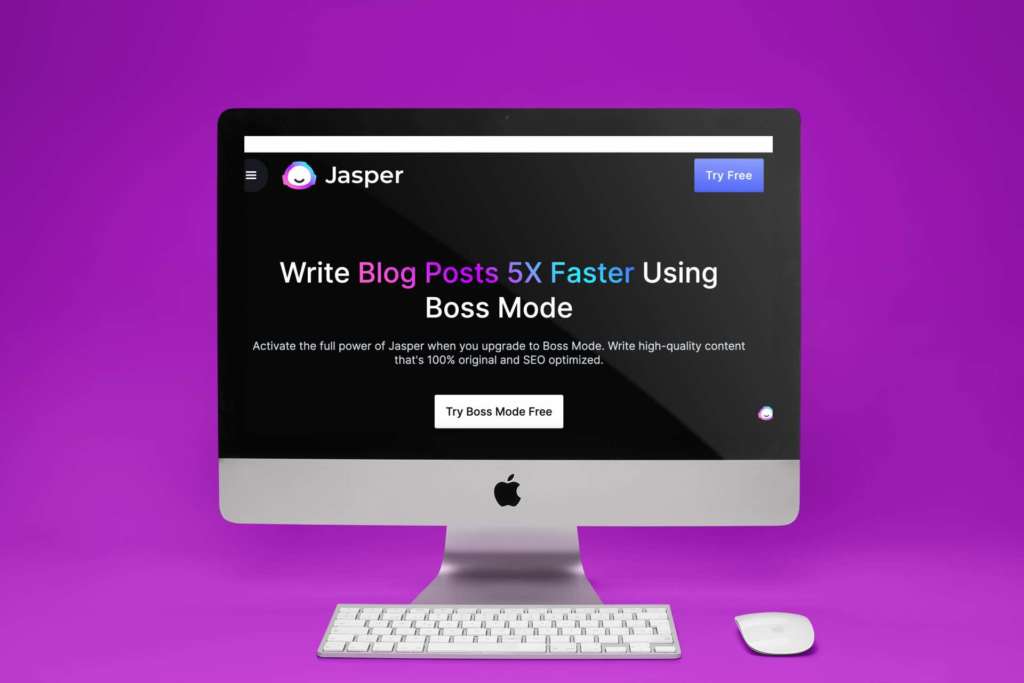 Here's 6 more reasons why you should consider Jasper:
1. You can finish your first draft 5X faster in Jasper Docs
You can streamline your content creation process by having Jasper write 80% of it and you edit the rest. Using this tool, you can produce large volumes of distinctive content with ease and also customize it to suit your brand's voice and style. No more painstaking manual writing — just concentrate on the imaginative side and let Jasper do the rest. It is easy to develop meaningful material with minimal effort using its library of natural language snippets.
2. Create original content that ranks for SEO
Integrating with SurferSEO allows you to unlock the EXACT keywords that you need to rank high on search engines – no guesswork required. With SurferSEO, you can quickly obtain detailed information about your competitors in the SERP and their content so that you can stay competitive. Additionally, reports generated from SurferSEO will tell you how your keyword strategy is performing in real-time, so that you're able to make any necessary adjustments for maximum impact. On top of all this, SurferSEO grants access to advanced features like SEO correlation analysis and related keywords research.
3. Grammarly is included for mistake-free writing.
Jasper has Grammarly integrated, so you don't have to think twice about how to improve the grammar, spelling, and tone of your documents. Grammarly will make sure you don't publish any mistakes and help make your work look more professional and polished. It provides corrections for grammar, language, and tone, so you can be confident that everything you publish is perfect. With Grammarly's help, you'll be able to produce the highest quality work possible.
4. Higher quality outputs with better context
Jasper's ability to read the past 3,000 characters and use that information in its writing process gives it a familiarity with the original content. This allows you to provide more contextual information without having to re-explain the same thing over and over. It also enables Jasper to generate better quality output faster than other AI writing tools, saving you time and energy.
5. Command the AI to write what you want
Jasper provides a unique way to get content written without having to worry about formatting or other details. With just a few commands, you can instruct the AI what type of material to create, how much of it you want, and more. It's like having your own personal assistant that can search Google for relevant information and generate content for you in an instant. And for those who like ChatGPT, Jasper has a chatbot feature integrated into its system as well. All in all, it's an amazing tool that makes creating content incredibly easy and fast.
6. Here's a critical one: Original content that's 100% plagiarism-free
With Copyscape integrated into Jasper, this makes it easy to ensure your content is original. With this integrated plagiarism checker, you can be confident that your work won't contain any text from other sources. Additionally, many users find value and peace of mind in running their work through the Copyscape tool after completing a document, as it will highlight any potential instances of plagiarism.
Want to give it a test drive?
Here's my promotional link for 10,000 free words (that's a lot of words!) to try the 50+ writing templates included:
http://www.churchtechtoday.com/bossmode

Make sure you test out "Boss Mode" when writing with Jasper.
If you end up trying out Jasper, let me know what you think?
Which is the best template? Do you like how the document editing function lets you do more than ChatGP with multiple queries?
Follow my @KennyJahng on Instagram or LinkedIn for more tips on creating #ContentWithPurpose using generative AI tools.