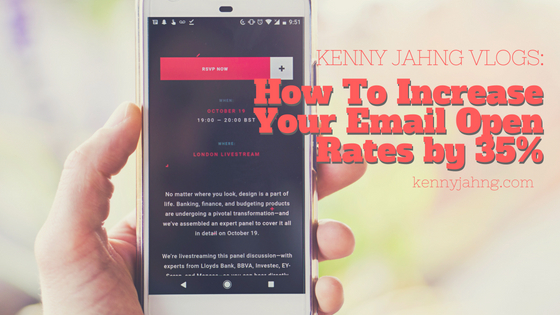 Kenny Jahng Vlogs: How To Increase Your Email Open Rates by 35%
Kenny Jahng here at Princeton University.
Today, I want to share with you something I learned on the sidelines that's gonna increase your email open rates by over 35%.
If you're like me in this stage of life, both kids are totally active every weekend with competitive sports. You almost don't have time to breathe. Sometimes, you think going back to work on Mondays is actually time off. What I realized is, you know, in between games and sometimes during a break, you'll actually be able to check emails on the weekends. I'm not going through and trudging my whole entire inbox.
What am I doing?
I'm looking for time sensitive or urgent things. In fact, I've got an email app that uses artificial intelligence and one of the things that I've noticed is I think it's filtering emails into the priority inbox by looking for keywords like today, tomorrow, this week, next week. Things that are time sensitive.
I came across this article which cites research that says, 'In your email subject headlines, if you use time to indicate some sort of urgency, it increases your open rates by 35 percent.'
So, what I felt was happening is actually backed up by data here.
Are you doing that with your email subject lines that you're sending out to your lists by putting in references of the fact that you respect the scarcity of their time?
So, things like referencing yesterday's meeting or regarding the meeting that's coming up on Tuesday, something like that. Those types of phrases help increase open rates. It makes sense, right?
Paying attention to your own habits and what you actually 'fall for'.
What you actually do in terms of your own behavior for email consumption is going to help you become a better communicator on the publisher side.
It looks like the game is starting. I'm going to play Dad on the sidelines, but as I leave, here's a question for you.
Do you have an email tactic that's working for you?
I'd love to hear an email tip that you can share with me so that we learn together.
I'm Kenny Jahng. In the meantime, be social, stay social.