Forget Photoshop. Get the Canva For Work Version Free for Your Nonprofit or Church.
It used to be that nonprofit and church communicators used to drool over professional graphic design software like PhotoShop or Illustrator because it was so expensive.
But with Web 2.0 and beyond, everything is going to the cloud. SAAS is your best friend (Software As A Service). Photoshop is now included in a web-based subscription service that Adobe offers. But why pay for graphic design tools when you can get a robust alternative for free?
I'm talking about Canva.com. It has quickly become a staple in many communicators' toolkit since it is web-based and free.
But there's also a "pro" version called "Canva For Work" which offers a bunch more tools and features. You really want to have it available for you if you're doing graphics work for blogging, social media or other digital media.
Did you know your church or nonprofit can get Canva For Work edition for free? Here's how. . .
Click To Tweet
If you're a 501c(3) organization qualified by the the IRS, you're in luck. Here's all the deets directly from the Canva site:
Getting access to the best resources for your nonprofit is not always easy. At Canva, we believe in removing roadblocks and helping charities and philanthropic organizations bridge the gap between their mission and their audience.
With Canva for Work, nonprofits can bring their vision to life, and through beautifully crafted content inspire a community to action.
How can you apply?
As a way to give back to the community, we are pleased to provide eligible not-for-profit organizations a free subscription to Canva for Work for team sizes of 10 members or less.
To apply for a Canva nonprofit account you need to have an existing Canva account. You can set one up for free at www.canva.com. As soon as you are setup, you can fill out the Nonprofit Application Form. We require documentation validating your charitable and not-for-profit status so this is something you will need to provide.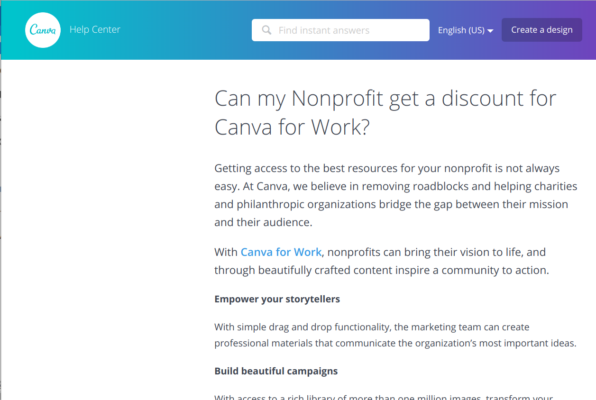 In this post, I shared how you can apply and get Canva for Work paid edition for free for your church or nonprofit team. There's two main things you need to know about the process:
You basically need to create a free basic Canva account first.
Then fill out the Nonprofit Application Form with your organization's name, tax id, etc. and submit for approval.
Now, GO AND DESIGN BEAUTIFUL THINGS!
About Author