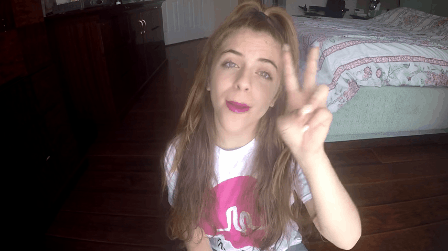 The #1 Thing Worship Band Leaders Aren't Doing Right Now, But Should Be
Hey Worship Band Leaders . . .
Here's a test: DO YOU KNOW THESE TWO (plus @GaryVee) YOUTUBE SUPERSTARS?
If you are a worship band leader and you don't know who these young women are, take a look at this episode of the #ASKGARYVEE Show because after watching, you'll agree it's super important to know why millions of other people follow their every move.
OK, now that you have a frame of reference, I can let you into my brain to share all the crazy thoughts I've been having lately on a particular topic. . .
So, there's tons of thoughts and opinions I've been having about the liturgy of our church services in the modern day contemporary church.
On the surface, there's a reason why many people plainly just don't sing in church anymore.
That said, given the current state where worship music leaders have been elevated in visibility (even drawing fire for it), if music is a draw for new people to enter the church doors — are we as a Church, harnessing this attractional aspect to the fullest?
There's 2 BIG learnings I think that's impossible to miss from this video interview by @GaryVee.
2 BIG TAKEAWAYS FOR WORSHIP BAND LEADERS
(A) – Twitter ain't going away.  This isn't immediately relevant to this topic, but it's hard to be ignored.  It's kind of a shocker even to most who have been around the Twitterverse for awhile.  Look — @GaryVee had to ask a couple of times to make sure he's getting it right!  In fact, @Jack has a huge opportunity to revive the platform to top-dog status if he can introduce a thoughtful pivot and evolve the platform further.  But, based on this interview you can plainly see that despite anything new, Twitter is already on the upswing in many (of the right) circles (remember, these girls have MILLIONS of followers).  If you're a worship band leader, it's time to reconsider getting on Twitter to reach more people in your community.
(B) – And this is the main point of this piece here today — Am I the only one seeing that Musical.ly is the perfect fit for worship band members to dominate on this channel?  Why aren't they doing covers on Musical.ly every week?  The platform even allows you to upload your own videos / music.  If your worship band writes original music, why aren't you taking advantage of THAT?  What about Youth Group leaders?  Couldn't they gain mindshare if they were interacting in ways that earned them a voice in the conversation of a tween or young adult today?
BRAVE ENOUGH TO RISE UP TO THE CHALLENGE?
Ok, so you haven't installed Musical.ly yet?  Go ahead, we'll wait.  And since you'll need some help, here's BabyAriel to the rescue . . . Take a looksie on how to record your first duet:

SIMPLE QUESTION: DO YOU AGREE OR DISAGREE THAT CHURCH WORSHIP BAND LEADERS NEEDS TO BE ON MUSICAL.LY?
About Author