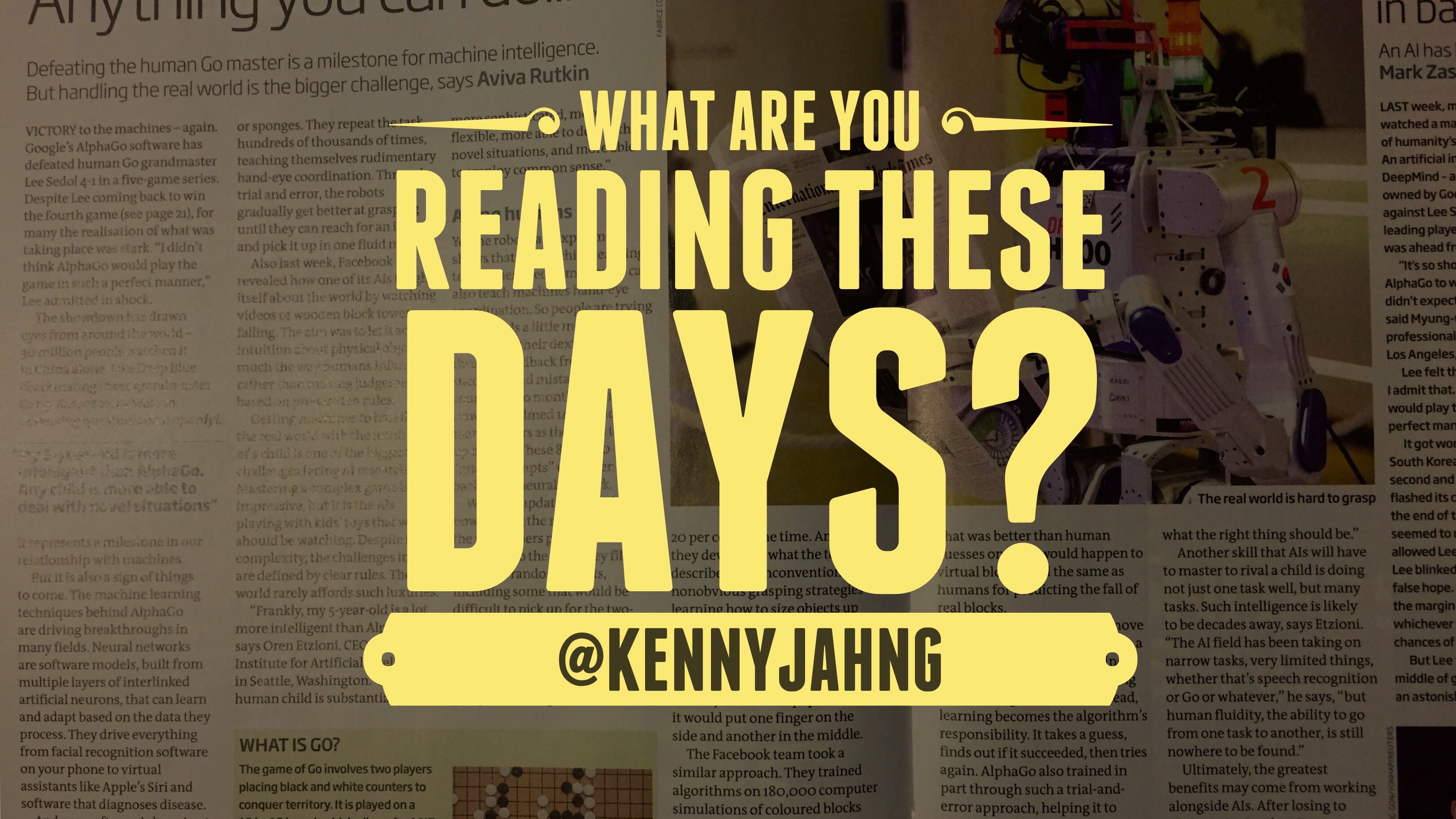 What Magazine Are You Reading These Days?
Today is the day. As I walked in the house, these magazines were on the kitchen counter with the rest of the mail. TIME. And NEW SCIENTIST. It's that day of the week again.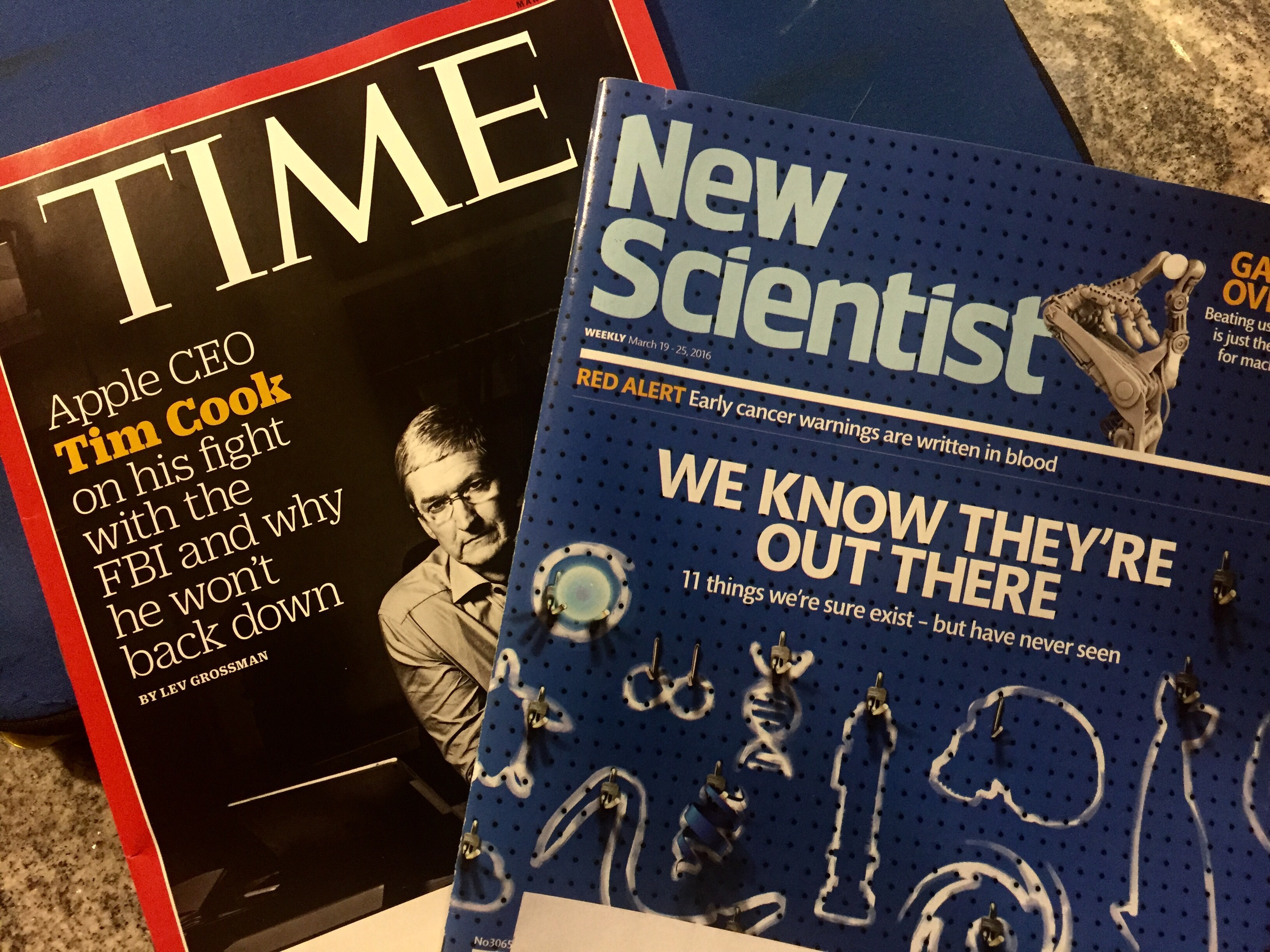 When was the last time you picked up a magazine to read?
It may seem like magazines are dead, but there are tons of interesting and new titles coming out covering very specific subjects. They are niche content providers.
Magazines serve the long tail of SIG's. And that makes magazines worth considering for your reading sources.
News (TV, Print, Web) no longer provides educational, thought-provoking content since the lines have blurred with reality TV ("embedded" live reporting just to say it is live when nothing notable is happening), opinion (non-respectful argument "ringside seating",) gossip ("breaking news about Justin Bieber"), and tabloid ("reporting on rumors about x, y, z") media publishing.
This is all driven due to the relentless competition for attention created by the democratization of publishing technologies which has brought us the proliferation of content sources. And they all want our attention.
More supply. Same or less demand.
In the end, since all of this needs to make money, all of the mass market media outlets have sacrificed quality and trust for click baiting headlines and the resulting infotainment, with emphasis on the latter part of that word. #end-of-rant
In a world where generic content floats to the top to get consumed by the masses who want to be entertained not informed, magazines are still a good place to find interesting tidbits of thoughtful content for inspiration and education.
Plus, many magazine subscriptions are dirt cheap these days. #bonus
Now that these magazines have arrived to benefit you, you have to go through and read and digest the content from each one. I don't know about you, but I don't have random blocks of multiple hours in my daily routine to just sit around and browse the multiple magazines we subscribe to.
New issues arrive each week so you need to stay on top of it unless you want a stack of old magazines piling up right next to the tower of personal guilt of never getting to them. I am sure you are familiar with that experience.
So here's a simple routine that I have developed that relies on some bias for action whenever a magazine enters the house.
HOW I READ 7-10 MAGAZINE ISSUES EVERY MONTH WITHOUT SPENDING HOURS AND HOURS SITTING DOWN TO READ THEM
1. As soon as you get the magazine, do not put it away. Take a look at it and figure out what the general themes of the issue are editorially. There is usually a cover story or an anchor subject that unifies much of the content within that issue. You need to figure out if you were interested in going deep on that or not. If you are piqued by the leading topic you will want to pay attention to those core articles. If not for this week's or month's issue, then there are usually a lot of ancillary articles, and many short form blurb – pages, infographics and other "Stuff you may like" type of content. These are the things you'll want to pay attention to as you go through the issue.
2. Next, quickly page through the magazine, scanning each and every article. Your job is not to read the actual article. In fact you must stop yourself from getting involved with any of the actual pieces. It is hard to stop. But your job is to page through the entire magazine in a couple of minutes. 4-5 minutes tops. If you find anything of interest, tear out the page. The end goal is to remove just the pages you want to read and consume, and discard the rest of the magazine.
3. After discarding the actual magazine that is left, I usually put the torn out pages into a clear plastic folder. Now it is easy to take reading material with me that i know is worth my time and that i can consume just about anywhere, even when I am out and about, traveling, etc.
Think of it like the 30 second skip button on your TiVo for magazines.
You are now reading only content that is interesting to you, getting rid of any distractions and fluff, and not wasting time on content that will simply waste your time. 🙂
4. What ends up happening is at least one or two of those articles that you have torn out and read is interesting enough that you'll want to share and forward with a friend or colleague. If I see them in person, it is easy enough to pass it on to them the next time I see them. Otherwise, I pull out my phone and use the Scanbot app to quickly take photos of each page and convert them into a single PDF file which I can email to a friend, client or colleague.
This last stop alone makes this entire experience of subscribing to a magazine worth it many times. Because it helps yo you be seen as a valuable resource or someone being generous enough to care about them and their interested/needs.
What do you think about this approach to reading magazines? Have you ever thought about doing this yourself?
What magazine(s) do you subscribe to or have subscribed to in the past? I'm curious to know!
About Author