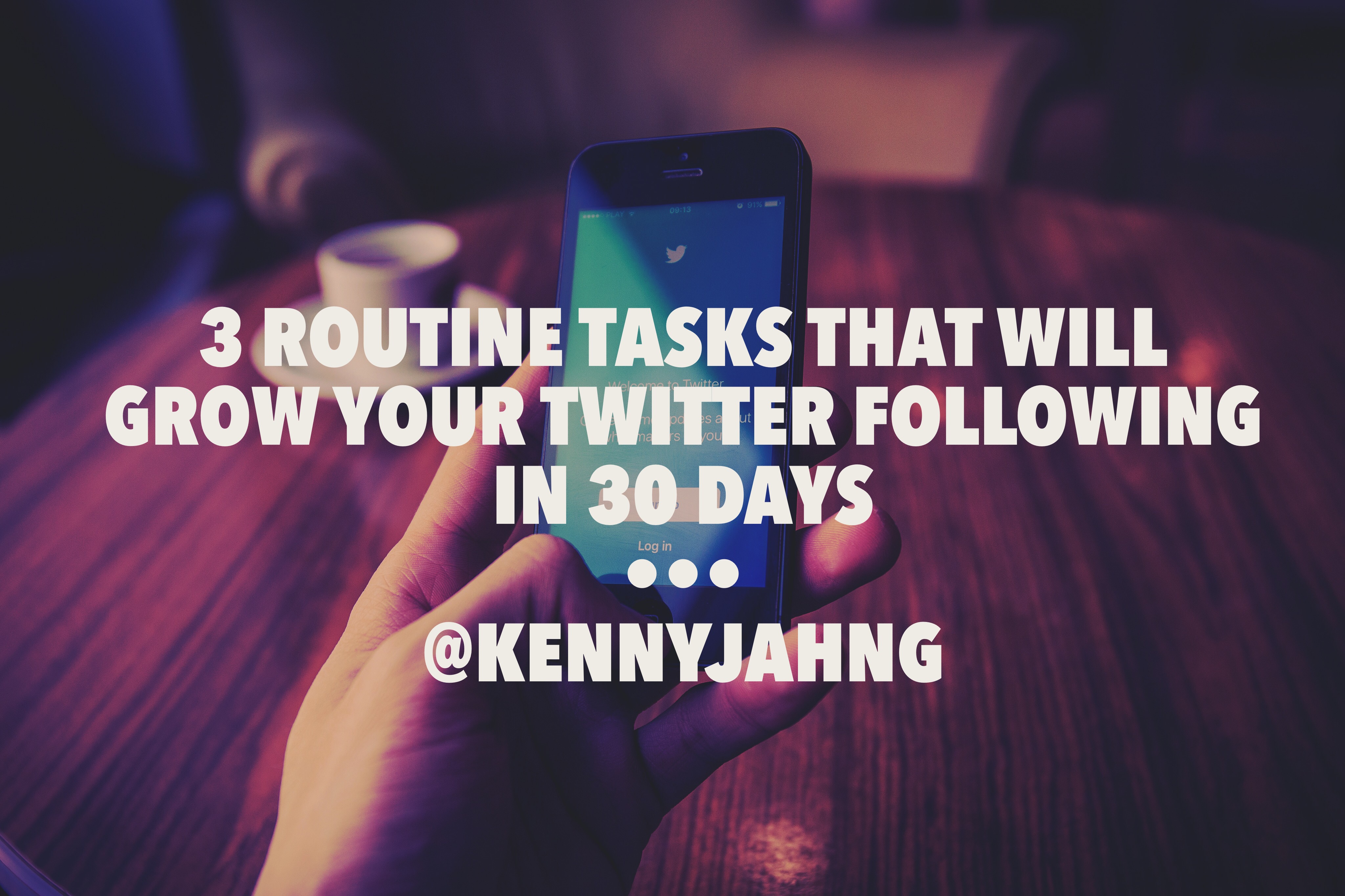 3 SURPRISINGLY SIMPLE  TASKS THAT WILL MAKE YOUR TWITTER FOLLOWING LIST SKYROCKET IN 30 DAYS
Everyone is looking for shortcuts to build a Twitter following, but at the end of the day, you probably need to put in some elbow grease to get momentum going.
Here are three easy, straightforward things to do on a daily basis on Twitter. I promise you if you do these three things for 10 minutes a day for a month, your Twitter following will explode.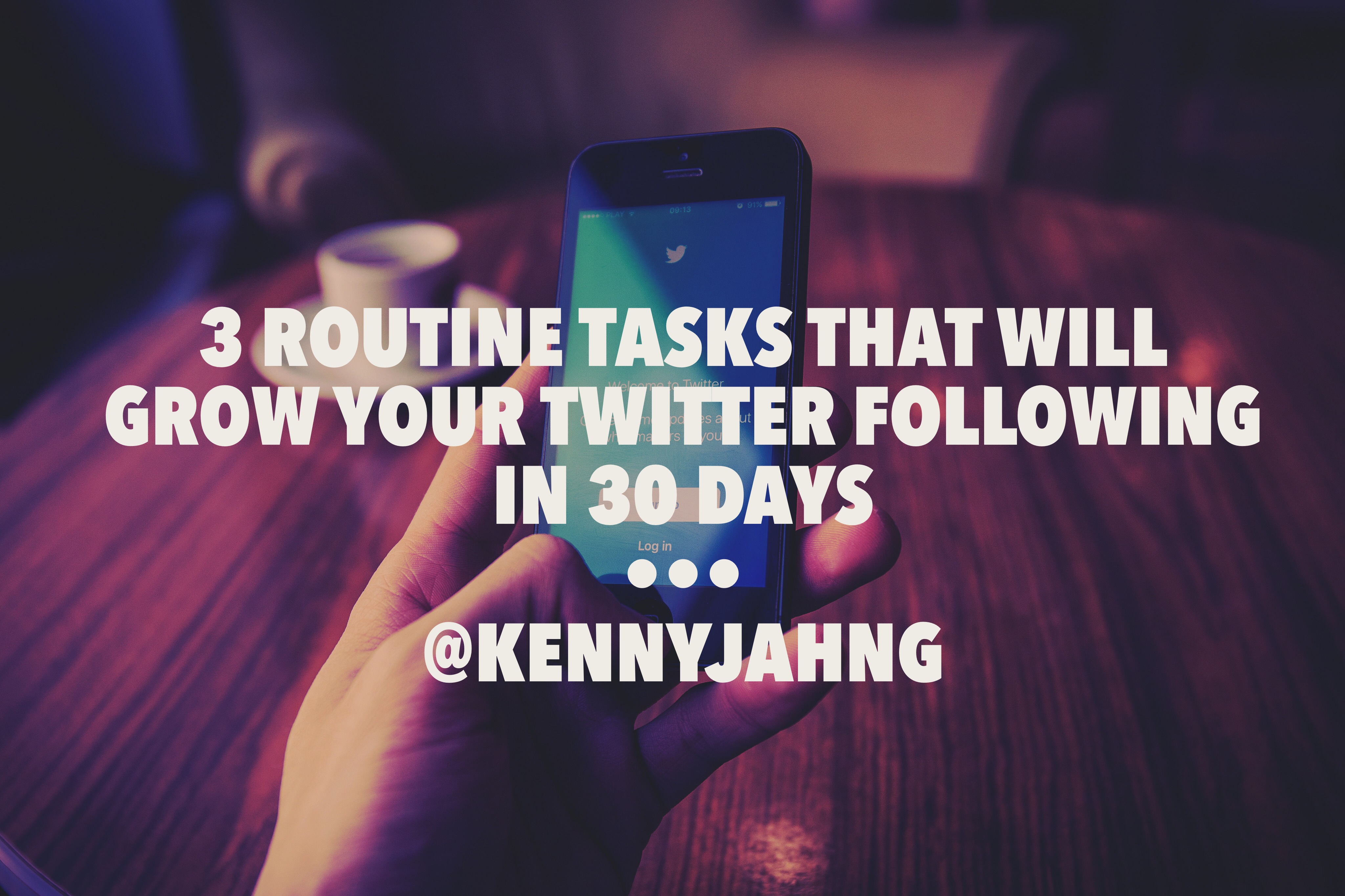 3 THINGS YOU SHOULD DO EVERY DAY ON TWITTER TO GROW YOUR FOLLOWER COUNT
FOLLOW PEOPLE WHO FOLLOW PEOPLE YOU FOLLOW. One of the best ways to get started in the Twitterverse is to identify some key thought leaders, celebrities, influencers for the industries, hobbies and vocation that interest you. Next, take a look at who they are following and who follow them. It is an efficient way to find more people on Twitter that you will want to have a conversation with. People with similar interests, people with whom you will want to connect and network. Selectively follow interesting people on those lists and look for excuses to reply, retweet or comment.
PULL PEOPLE INTO YOUR CONVERSATIONS. In order for people to notice and interact with you, sometimes you have to proactively tap them on the shoulder and pull them into your discussion. How do you do that on Twitter? Simply by mentioning them by name – or by their Twitter handle this case. Try commenting on a link or a news item or topic with keywords in your tweet and mentioning someone relevant. It might be someone you know, or someone you want to start a conversation with. I would encourage you to reach for the stars and include someone who you normally might not be able to reach off-line. How about an author? Or a CEO? Or a TV personality? My kids have gotten a response from the movie director of Frozen after tweeting her on the way home from the movie theater. If my kids can do it, so can you.
REPLY. ANSWER. REPEAT. Being interactive and generous is part of the culture for social media. Make sure you are replying to every tweet and mention that comes your way. Turn on notifications so that you get an email or text whenever someone mentions your Twitter handle. That way you can be responsive in a timely manner. Another great way to be seen as a resource is to do a Twitter search for "?" – I have that as a filter in my HootSuite dashboard. The search results provide an opportunity for you to scan the list and see if you can comment or respond or encourage any of the people asking a question to the Twitterverse. Take a moment and try to tweet a reply to at least one or two a day for a week. I promise you that you'll gain some conversation partners and probably some followers through the simple activity. No questions you can answer? Tweet your own!
These are the three basic fundamental relational activities you should be doing on Twitter all the time.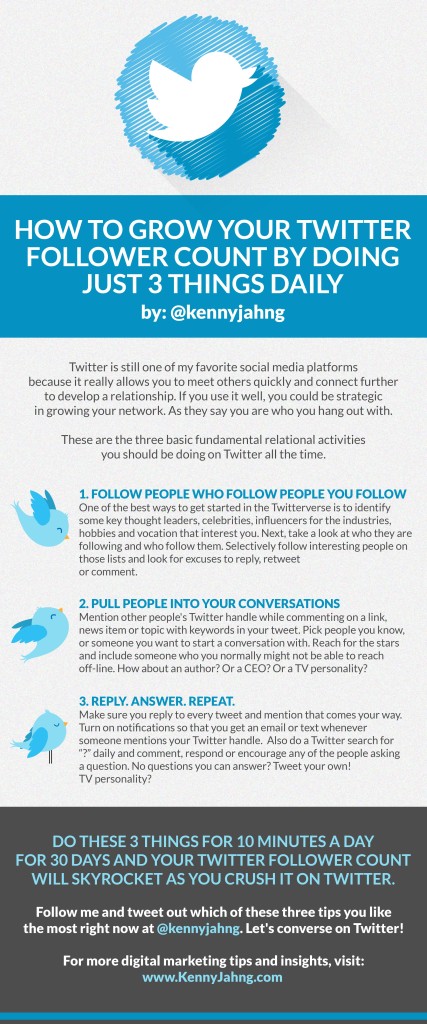 Here's the thing, at the top of the post I suggested that you do these 3 things for 10 minutes a day for 30 days. You probably either rolled your eyes or glossed over that prescription.
It comes down to something like a measly 10 minutes in your day that makes the difference between being a laggard and becoming a leader.
Go ahead now and schedule 10 minutes into your calendar every day so that you can actually have time to do it.
It's one of those things like the butterfly effect. Small tiny little actions can have gigantic impact.
The question is if you're really serious about growing your Twitter following and engagement experience or not.
If you're looking for shortcuts and magic pills, I am telling you, there are none.
You really need to roll up your sleeves and do the work. But here, you have a recipe for something that really is quite simple and easy to do if you are able to build it into your daily workflow. That's the key.
Integrating it into your daily routine and not doing this "when I have spare time or have a moment."
Schedule your task list so that you can plan the work and then work the plan. It is as simple and mundane and as that.
To your Twitter success,
Kenny
About Author