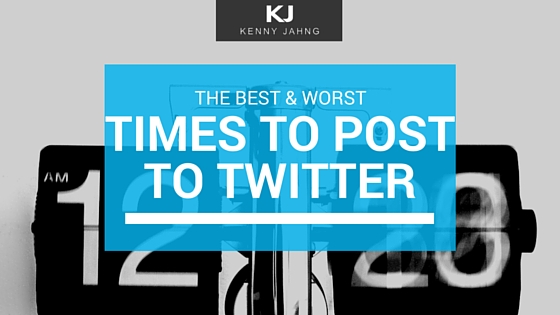 The Optimal Days and Times To Post To Twitter
One of the most ideal platforms for promotions and numerous advertising options is Twitter. Almost 135,000 new users are signing up on Twitter every day and over 239 million who are actively using it. As a tool for effective communication, Twitter surely is on every's top 3 list.
It has been realized by social media marketers, big and small business owners, churches, fan site builders the power of Twitter.
A million followers don't just proliferate overnight. You need relevant content posted consistently.
Click To Tweet
Generating the perfect day and time to send out your posts is a very valuable thing.
Take note of these suggested days and times by some of the authority sites I have surveyed. Here's the summary: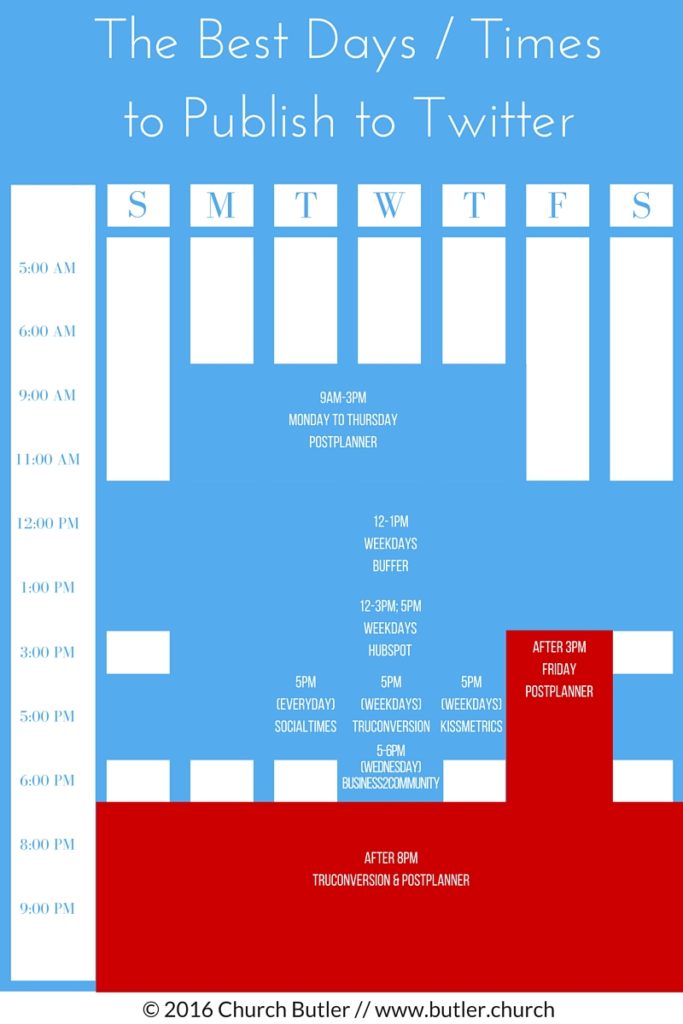 HubSpot
The best times to post on Twitter are weekdays from 12:00 p.m. – 3:00 p.m. and 5:00 p.m. according to HubSpot.
SocialTimes
When it comes to Twitter, SocialTimes recommended these posting dates and times: best time of the day to tweet is 5:00 p.m. for highest retweets, 12:00 p.m. and 6:00 p.m. for highest CTR. Monday to Friday for B2B engagement; Wednesday to Sunday for B2C engagements.
The Huffington Post
The Huffington Post says that for maximum retweets, post at 5 p.m., 12 p.m., and 6 p.m. Additionally, 12 p.m. and 6 p.m. also deliver higher click-through rates. The best days to Tweet for business-to-business organizations is Monday through Friday, for business-to-consumer it's the weekends and Wednesdays.
Kissmetrics
Kissmetrics mentions that on weekdays at 5 p.m., the highest percentage of Retweets occur.
Buffer
The most popular time to tweet is at noon to 1:00 p.m. The highest volume of tweets occurs between 11:00 a.m. and 1:00 p.m., peaking between noon and 1:00 p.m. as stated by Buffer.
FastCompany
FastCompany states that tons of people are checking in on the Twittersphere around lunchtime, with peak posting days falling between Monday and Thursday. But once 3 p.m. on Friday rolls around, people have officially checked out.
TruConversion
According to the article posted by TruConversion, the best time for retweets is after 3 p.m. The worst time is after 8 p.m., any day. The very best time of all? 5 p.m.
PostPlanner
In PostPlanner's article, it suggests that the best time to post is 1-3pm on Monday-Thursday while the worst time to post is any day after 8pm & Friday after 3pm. Peak time is 9am-3pm on Monday-Thursday.
Business2Community
"Twitter is very different to Facebook in regards to the best times to post. Wednesday around midday, and between 5-6pm is the best time to post, and 18% of Twitter users are more likely to engage when they are on the move (hence the rush hour time being the best)." Business2Community indicates.
Remember every brand account is different because ever audience is different. Do you have any specific sweet spots for days/times that you use for publishing to Twitter?
About Author